Make the Ukraine's energy system more resilient to external and internal security challenges. This is the task for which the DiXi Group think tank brings together Ukrainian, European and American stakeholders on one platform. In the heart of the country, where almost every citizen has experienced this challenge over the past year.
On December 12, the third Ukrainian Energy Security Dialogue will be held in Ukraine under the patronage of the Ministry of Energy of Ukraine and with the financial support of the International Renaissance Foundation and the Konrad Adenauer Foundation (Ukraine).
The topic of the Ukrainian Energy Security Dialogue 2023 is Resilience and Recovery. Together with the participants, we will explore what approaches and tools will help strengthen the stability of Ukraine's energy system. And we will also create a vision of the common energy future of Ukraine and the entire European region.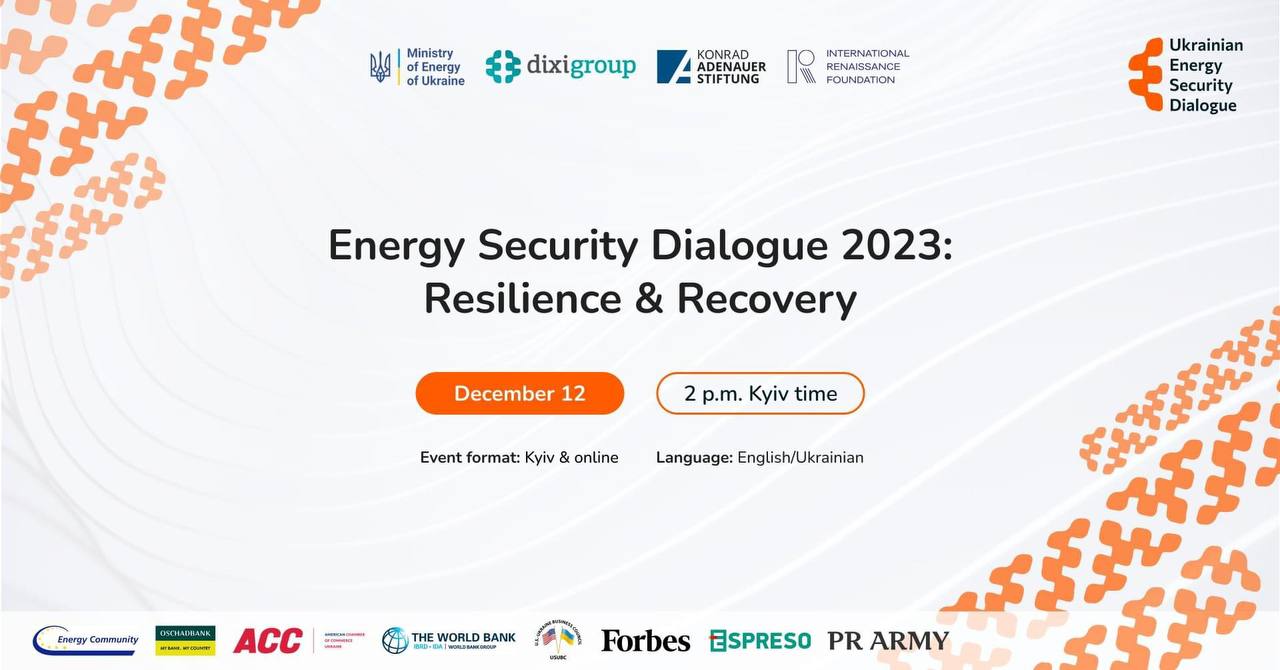 ✔️ What decisions and actions by the Ukrainian government, business, and international partners will help create a sustainable energy system?
✔️ What will help Ukraine's energy system to withstand physical and hacker attacks, reliably supply energy resources in the process of transition away from fossil fuels, and make local communities and cities energy independent and resilient?
The Ukrainian Energy Security Dialogue aims to find answers on how to do this.
👉 Registration: https://bit.ly/3SwOL40 
Among the speakers of the conference are representatives of the Ministry of Energy of Ukraine, the Ministry for Communities, Territories and Infrastructure Development of Ukraine, the Organization for Economic Co-operation and Development (OECD), the World Bank, the Delegation of the European Union to Ukraine, the Energy Community, businesses in the field of energy and local communities.
When: December 12, 14:00 - 18:00 (Kyiv time)
Language: simultaneous translation (Ukrainian and English)
Place and format: Kyiv and online.