DEAR COLLEAGUES!
National Technical University of Ukraine «Igor Sikorsky Kyiv Polytechnic Institute» invites you for participation in the V International Conference «Problems of Energy Management System – PEMS'18»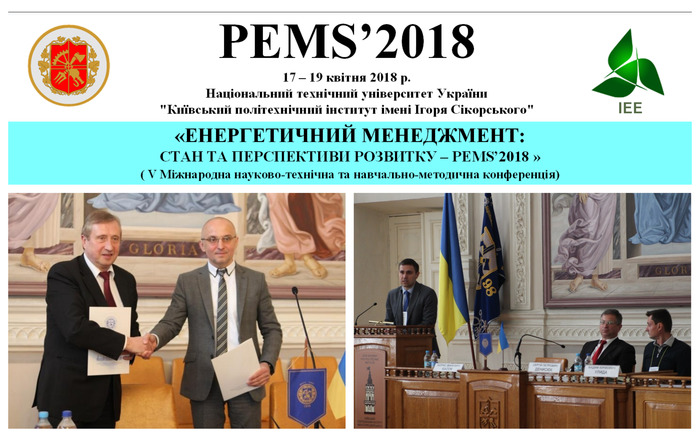 The conference is held with support of the Ministry of Education and Science of Ukraine, the Ministry of Energy and Coal Industry of Ukraine, the State Agency on Energy Efficiency and Energy Saving of Ukraine, Scientific-Technical Cooperation of Power engineers and Electric engineers.
V International Scientific-Technical, Methodological Conference «Problems of Energy Management System – PEMS'18» considers scientific, technical, economical and methodical concerns in effective energy management systems development, which allows to improving energy efficiency for energy sector of Ukraine functioning, implementation of energy efficiency policy and energy management for enterprises, organizations and institutions.
Purpose of the conference: holistic analysis of modern aspects on energy efficiency, energy management and energy saving; demonstration of scientific achievements and search for new solutions for energy efficiency and energy saving in the field; as well as their practical implementation at the current development level of Ukrainian Energy System and current situation for higher education development in energy management.
CONFERENCE WORK AREAS
Scientific-technical:
1.              Legislative and regulatory issues in energy saving and energy efficiency.
2.              Methodological basics for monitoring and management of the effective fuel and energy consumption
3.              Modern energy management systems.
4.              Intellectual energy systems Smart Grid and energy management.
5.              Integrated energy management systems.
6.              Energy management position in management of enterprise and branches of economy.
7.              Resources planning for the enterprise from the side of energy efficiency management.
8.              Security of energy and industrial objects.
9.              Environmental issues in energetics and integrative approach to energy resources use.
10.           Practical organizational, technical and economical issues (best practice) in energy management.
Educational-methodical:
1.              Methodology in formation of studying content in the field of energy efficient technologies and the energy management field.
2.              Modern studying and laboratory equipment for provision fundamentally specific and practical training of energy managers.
Deadlines

Until 01 April 2018

Registration (accepting applications and abstracts)

Until 06 April 2018

Notification for inclusion to conference program

Until 10 April 2018

Payment of  registration fee
 Information letter can be downloaded here.
Organizational committee of the conference:
National Technical University of Ukraine « Igor Sikorsky Kyiv Polytechnic Institute », Insitute of Energy saving and Energy management. 3056, Ukraine, Kyiv, 115/3 Borshchagivska st., b. 22, r. 315, tel/fax (38-044) 204-85-14;
e-mail: pems@kpi.ua, link: http://pems.kpi.ua/