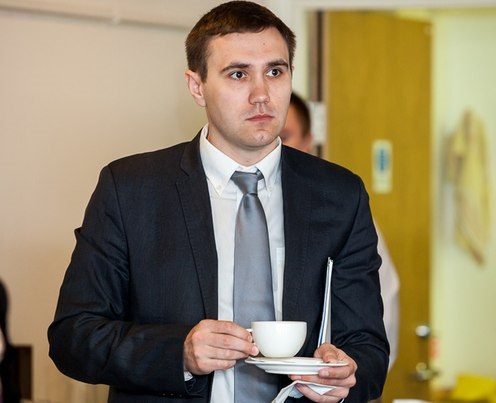 Pavlo Ladetskyy
Head of energy management and standardization department of  State energy efficiency
Graduated the Institute for Energy Saving and Energy Management of gor
Sikorsky Kyiv Politechnic Institute  in 2010, specialty "Energy Management".
---
My professional career I started with the passage of pre-graduation practice in the State Agency on Energy Efficiency and Energy Saving of Ukraine State energy efficiency і During the traineeship has established itself as an experienced and diligent worker and after defending of diploma project in February 2010  was invited to take the post leading specialist programs and monitoring indicators of efficiency. As part of their professional activities I engaged in the development of standardization and regulation of energy efficiency.
The feature works in office was the need to use advanced achievements of Ukrainian and European experts. The knowledge received  during the training helped  quickly and efficiently perform tasks that arise in the performance of my professional duties. Cooperation with our European partners during working visits to countries such as Germany, Belgium, France, Spain, showed a clear perspective directions of energy efficient technologies in various areas of industry and everyday life.
Working in such a dynamic field of energy, I realized that I never stay in acquiring new knowledge and experience. I constantly monitors current trends in the field of energy auditing, energy management, energy-efficient technologies. However, I decided to continue my studies and in 2015 received the second higher education qualification "Master of Business Administration" (MBA).
The next stage of my career I was the appointment in July 2014 as Managing Director of the application of norms, standards and energy labeling State energy efficiency . Since December 2015 I occupy the position of Head of Energy Management and Standardization State energy efficiency. The main objective of our management is to prepare proposals for the formation of a unified state policy on energy audits, implementation of energy management systems and methodological guide development of national standards in energy efficiency.
Today from Ukraine are waiting to fulfill a number of obligations under the Association Agreement Ukraine - EU, in particular as regards the implementation of the relevant Directives of the European Parliament and the Council. A key EU Directive in the area of ​​energy efficiency is Directive 2012/27 / EC of 25 October 2012 on energy efficiency. Among other things, the provisions of that Directive provided to encourage implementation of energy management. Since the implementation of that Directive in Ukrainian legislation will significantly increase the role of the presence of professionals from energy management. Here appears the leading role of the Institute for Energy Saving and Energy, such as electricity department, which prepares highly skilled professionals in the energy sector.